I've been putting off writing this, my final McCombs blog entry, for some time now. As my fellow bloggers have turned in their final posts, full of photos and reflections and memories of their amazing experiences over the past year(s), I have found it difficult to get to the point where I'm ready to put such reflections down on paper. It seems so final – writing a post that sums up my time here at McCombs – and in all honesty, the end is something I'm having terrible difficulty coming to terms with.
Even today, more than a week after I donned my cap and gown (made out of recycled bottles nonetheless!) and walked across the stage at graduation, it just doesn't seem real. How did I get from Orientation to Graduation in the blink of an eye? It seems like yesterday that I was attending info sessions about McCombs, listening to alums talk about McCombs as the best two years of their lives. I hoped I could have an experience to match theirs. And now, two years later, I look back at my time at McCombs and know that my expectations were far exceeded by this program. I am leaving McCombs (and Austin) with knowledge, experiences, connections, and most importantly a group of friends who I know I will be friends with forever.
When I look back at my time at McCombs, I know that there are certain classes, trips, experiences, competitions and milestones that define this experience on paper. But when I look back – when ten years down the road I think back to the things that will still have an impact on me after the case studies and words of wisdom have escaped my mind – it will be moments that I remember. Those things that happen that you know will remain in your memories…and that change you, even in the slightest bit, when they occur. Below is a list of my favorite moments, in no particular order:
– Dean Hirst (Dean of the MBA program and also my accounting professor) standing up and shaking hands with each student in his class as we turned in our core accounting finals.
– Standing in front of my classmates and professors and presenting mentionables, a company brainchild of four of my best friends and mine that we presented at Texas Moot Corp (and again in Winnipeg, Canada)
– Running the selection of the next class of CCIMS Marketing Fellows and being so proud of the group of people I worked with and the one that we selected
– Running out of breakfast tacos at Preview Weekend, and having my Preview Weekend co-chair Dan Salas calm me down while Tina Mabley ordered more tacos…the whole time keeping it from event organizer Angela Zerda because we didn't want her to worry.
– Panicking at a table in Carpenter Center (the MBA lounge) when 6 weeks into the semester, and just prior to my accounting midterm, I still didn't understand debits and credits (and one of my best friends talking me through it as I had tears in my eyes)
– Football games, and the trail of orange that led from the MBA tailgate all the way to the stadium
– Assisting in handing over lapdesks to underprivileged children in a township in South Africa with 29 other McCombs students
– The winning moment at the 2009 Tostitos Fiesta Bowl that three friends and I attended in Phoenix, Arizona
– When I found out that not one, but TWO McCombs students were selected to intern at General Mills this summer (where I'll be working full-time)
– The many times at McCombs that called for costumes (holiday not necessary)
– Seeing Bevo up close at a house party before the Texas/OU game in Dallas
– Getting to talk to prospective students about how I made my decision to come here and why I know it was the absolute right decision for me
– That feeling that no matter how much I loved being with family in Maryland, being at my summer internship, being with other friends…I was always SO excited to come home to Austin
– Buying my first pair of cowboy boots
– Listening to Warren Buffett's amazing words of wisdom in Omaha, Nebraska
– When my study teammate Matt brought my entire team bottles of wine on the day of our last final exam first semester. Our team went from dysfunctionally functional to friends in 12 weeks.
– Professor Christopher Meakin ending every Law for Entrepreneurs class with the phrase "Questions? Comments? Go change the world."
– The river barge at Disorientation, where after all of the exams and papers and before the craziness of graduation, the McCombs Class of 2010 was able to spend a day of relaxation on the water
– Putting on my cap and gown and standing with my closest group of friends in front of a paparazzi of family photographers all proud and excited to share in this one final moment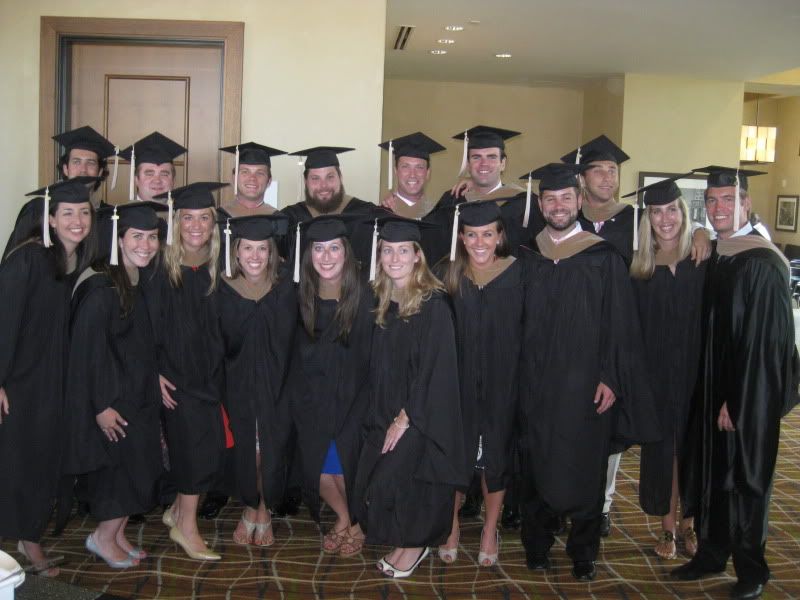 There are more moments – so many more – that can't fit into this blog post, but will remain with me for years to come. If you've been reading my moment-by-moment blog posts over the last two years, you've probably observed a common theme – every positive experience I have had at McCombs is due to the people that I've been lucky enough to experience it with. The Class of 2010 is made up of all kinds of people. When we came in, we were CFAs, CPAs, online marketers, engineers, rocket scientists, athletes, lawyers, entrepreneurs, managers, consultants, graphic designers, real estate agents, analysts, teachers, sales reps, non-profit leaders, military officials, and account executives. We were from Texas, US states other than Texas, and many countries outside of the US. We came in wanting to learn, to grow, to make friends and meet future business partners and leaders. We came in as individuals and leave part of a new family that I know will serve me well in the years to come.
There's an absurdly cheesy song by Carole King that has a lyric that has suited me many times (through many a teary goodbye) over the years, but perhaps has never been more appropriate than this final blog post. It goes, "We had a moment. Just one moment. That will last beyond a dream, beyond a lifetime. We are the lucky ones. Some people never get to do all we got to do. Now and forever, I will always think of you."
Goodbye McCombs. Thanks for the memories. Thanks for the friends, the best friends. Thanks for the moments. Hook 'Em.